Captiva Above Ground Pools
Captiva
Features at a glance...
Wall: 48" or 52" Steel
Warranty: 20 Years
Top Rail: 6" Steel
Posts: 6" Steel
Coating: BonderCoat 8 Layers
Sizes: Round and Oval
Oval Supports: Buttress
Made in: USA
Solid steel construction Captiva is made of high-quality steel specially forged for swimming pool use. Both the wall and all steel parts, including the posts, rails and more are engineered to be super strong to add extra rigidity to the pool's frame.
Easy kit assembly Each piece of the Captiva is specifically designed just for this pool. There are no universal pieces and no 'one-size-fits-all' construction. The posts, caps, ledges and rails all fit neatly together for an easier assembly and installation process.
Extra-strong pieces where they count! Several of the steel pieces on this pool are strategically engineered to provide extra strength and support by being double rolled. The manufacturer actually rolls the metal on the edge of each part two times, making an exceptionally rigid part and preventing sharp edges to make assembly worry-free.
BonderCoat Protection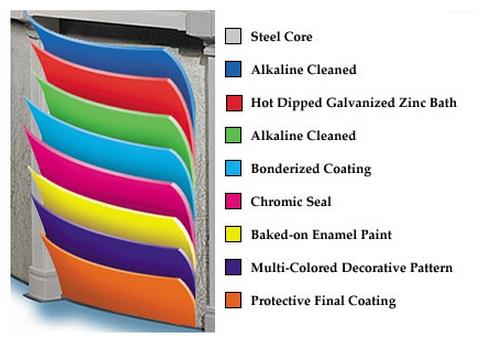 Captiva is built with a rugged 48" or 52" steel wall that displays a contemporary grid pattern. The wall is protected with an exclusive BonderCoat coating process. This 8-step process completely seals the pool wall from harsh pool chemicals and weather corrosion.
Resin seat covers Captiva includes resin seat covers that give the pool a color-coordinated, upscale look.
Sizes available:
48" Wall
Round
15'    18'     21'     24'     27'    
Oval
12' x 24'     15' x 30'     18' x 33'   
 

52" Wall

 
Round
30'     33'